9123 Bedford Ave.
Omaha, Ne
402-884-3700
We offer a variety of services to fit the individual needs of all of our clients.
Whether you are a busy person on the go or you want to take the time out to be pampered, we have the perfect service for you!
Got a wedding or birthday? Ask about a private spa party!​
Manicures
Basic Manicure $15
Includes nail & cuticle grooming,
lotion and regular nail polish
Deluxe Manicure $18
All of the above plus a hot lotion
hand treatment with massage
Keratin Mani-cure $25
Includes basic manicure, a protein rich moisture treatment that conditions skin
& strengthens nails, deluxe massage
Upgrade to Gel Polish on any manicure $10
( $12 with soak off)

Dipping Powder
$35 natural nails ( application only)
( $40 with removal)
Add tips $10 & up
Treat your feet
during your manicure (or anytime) with a keratin sock treatment & foot massage
just $10

File and Polish Only ( natural nails)
Hands $10
Feet $15
Kids polish $8 ( age 6-10)
Nail Enhancements
Starting prices are for basic active length acrylic nails. Additional charges for longer lengths,
special shapes, pink & white or other customized service are quoted by technician.
Full Set starting at $35
Fill starting at $22
Overlay starting at $25
Acrylic removal starting at $15

UV Gel , Poly Gel, & Silk Wrap quoted by technician

Pedicures
Basic Pedicure $25
Just the basics. Includes soak, nail and cuticle
grooming, polish, exfoliation and
mini massage with our seasonally
scented scrub & rich moisture cream.
(with deluxe massage $30) 30-45 min
Deluxe Pedicure $35
All of the above plus your choice of
a soothing hot honey, or invigorating spearmint
eucalyptus foot mask w/ hot towel wrap,
& deluxe massage 45-60min
Keratin Pedi-cure $25

Waterless,express. Includes nail and cuticle grooming, polish, dry foot buff,and a protein rich, antibacterial, moisture treatment with deluxe massage
Callus Treatment (add to pedicure) $10

includes take home pumice bar
Hot Stone massage (add to any pedicure) $5
Substitute gel polish on any pedicure $15
($18 with removal)
Extras
French tip $5.00
Nail Art $6.00 and up quoted by technician
Acrylic toe nail $5.00 ea.
Shellac/ Gelish Removal
$2-$5 w/ service
$8 without
Paraffin Hand Dip w/ massage $10
with service $6.00
Keratin glove or sock treatment with massage
add to any service $10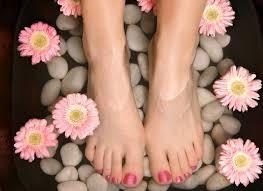 Tanning Bed
Unlimitted monthly $24.99 + tax
(no monthly auto debit required)
Single session $7.00 + tax