9123 Bedford Ave.
​Omaha, Ne
​402-884-3700
I​ luv nails!
by Wendy Lamb
Chrome Candy by Wendy Lamb
Deep Blue Sea by Wendy Lamb
A Little Bit W​ild by Wendy Lamb
Always On Pointe by Jennifer Pry
Hugs and Kisses by Jennifer Pry
Double Daring Diva by Jennifer Pry
At Artistry, we strive to stay on trend with the latest in nail art.
​​Our technicians each have their own individual specialties. ​Tell us what you have in mind, so we may pair you with the tech that specializes in that technique.
Ideas may be submitted to​​artistrynailspa@cox.net
​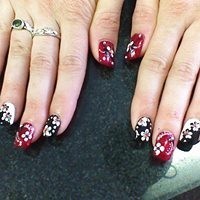 Floral Fantasy by Wendy Lamb